What Do You Need to Know Before Installing a Home Sound System?
4 Areas to Consider for Built-In Home Audio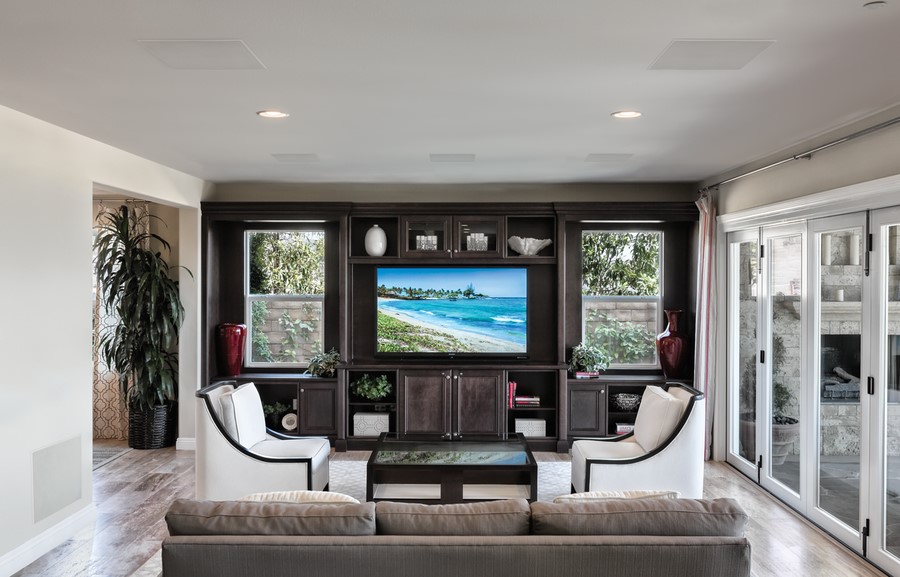 A home audio system is an investment that pays dividends year after year. If you like to entertain, imagine seamless music flowing through every room in your house, and even outdoors. Even if you don't entertain often, the sheer luxury of dialing up any music you'd like on a smart device and having it play everywhere as you move about your home is very compelling.
You may think you can just buy a few wireless speakers and presto, you have a whole-house or partial-house system. While it's true there are some exceptional wireless solutions out there, you might be surprised at the many high-quality options that exist for whole-home audio systems.
If you're interested in the options for a home sound system installation in Atlanta, keep reading below.
SEE ALSO: How Outdoor Speakers Help Bring Fun and Entertainment to Your Yard
Speakers
When people think about home audio, they think about speakers. Granted, they are the piece of equipment that physically makes the sound, but it's not the only vital link in the chain. The choice of speakers may also dictate much of what you need in other equipment.
The good news: the variety of speakers available for home audio is vast. There are wireless speakers, bookshelf speakers, floor standing speakers, in-ceiling and in-wall speakers, and outdoor speakers. If you are creating a whole-house setup, or simply thinking about audio in the main rooms, you might think all your speakers need to be the same. In some cases, that might make the most sense. In others, not necessarily.
You could, for example, have a media setup in a living area with hi-fi Martin Logan speakers but opt for the deep bass thump of Origin Acoustic architectural subwoofer and speakers in your exercise room. The Martin Logan system serves for home theater, TV, and deeper music listening needs; the Origin Acoustic system serves for keeping you energized.
Amplifiers
Unless you select powered wireless speakers, your speakers need amplification to drive the sound output. The Martin Logan system in your media room will need a powerful multichannel or stereo amplifier or receiver. Depending on how many locations will have speakers, distribution amplifiers may be required to run the architectural speakers.
Amplifiers are a critical element to audio quality. No matter how good a speaker you have, you need to give it enough power to make it sound its best at the volumes you like to listen. With multiple speakers throughout the house and outdoors, you need multiple amplifiers.
Sources
Do you like streaming music from Pandora, Spotify or Tidal? Or do you prefer your own digital music library that you've curated over the years? Are you into the superior quality of high-resolution music? If so, you might want a system like the Control4 EA music server, which can bring multiple audio sources together with simplified control. Unlike some other whole-home audio systems, Control4 supports the latest high-resolution music formats.
The newest OS 3 version of Control4 software added MQA support to their multiroom audio systems. MQA (Master Quality Authenticated) is a condensed format that makes it possible to stream high-resolution music from services like Tidal and Deezer, offering an improvement in sound quality you will hear.
Control
Many audio-visual systems are not easy to use. With a whole-home system, you need a system that is easy to access and operate daily. Whether you prefer a remote with real buttons, a touchscreen, a wall-mounted keypad, or a smartphone, Control4 provides control, your way. Play a song, an album, a playlist, or queue up multiple options from different sources for hours of listening. With the latest refinements in Control4 OS 3, managing a houseful of music is even easier.

Whether you want to rock or relax with music in your Atlanta home, Sunbelt Technology can install the perfect sound system for you. To get started, visit our showroom, call us today at (404) 236-0007 or reach us through our online contact page. We look forward to working with you.

No video selected.