Discovering the Mostly Untold Success Stories of the CI Business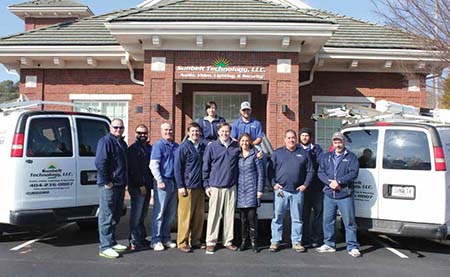 Wes Bradshaw has a particularly diverse background, which helped him form the concept for Sunbelt, the integration company he founded in 2005 in Atlanta. He worked at several world-class resorts, sold books door-to-door, on commission, and even worked the technology trade association, NASBA, who put together marketing plans for industry-leading companies like Microsoft and Intel to reach out to the system builders and VARs nationwide. When Intel came out with its Media Center PC, he had the opportunity to work with Roland Graham, a TechHome Leadership Award winner, who was setting up different systems attached to the Media Center.

"Once I saw the theater solutions Roland designed in operation and learned from his approach, I was hooked!" he said.

In 2005 he left his position at NASBA and started Sunbelt, working out of his home office with one technician. Sunbelt's first showroom opened in 2007.

"We've been working on the right mix of products and services while building one of the best teams in the industry ever since," Bradshaw explained. "In the past few years our vendors have made significant improvements in their products, and we've finally reached the potential we envisioned nearly 10 years ago with smartphone control and simple interfaces. It's been hard work but truly amazing and exciting to watch our concepts come to fruition."

Sunbelt partnered with Control4 a few years back, and Bradshaw says his company has enjoyed watching them "dial in" their automated platform and "really take over the market."

Over the years, Bradshaw has learned that "integrity is non-negotiable," particularly in a reference and referral business. "A good reputation takes years to build but only a few minutes to destroy," he said. "I've always been honest with everyone and tried to be candid on the costs involved in each project on the front end. No one likes unpleasant surprises!"

No video selected.